My Favorite Short Videos! + Live! with La Loca! #5
Hello my friends!
School is in full swing and my hair TOTALLY looks like I have just finished the first full week of school. Paul and I went on our first date in ages last night and we got home at 8:30 and went straight to bed! EXHAUSTED.
I didn't make it up much before 8:30 any single day this week. Lots of parent's nights and yesterday I just wanted to get organized and prepared for Monday. It was a great week but definitely challenging. Since I don't have those relationships right now, I am working really hard to form those, build community, and set some serious expectations around behavior and norms for our class. I will blog about that (sometime…. so many blogs to write and so little time!)
Last week, on Saturday, I did a LIVE! with La Loca video on my YouTube. If you want to see it with the comments you can click here. I had to record it in two parts because it wasn't letting me comment. I will post both YouTube videos at the end of this blog.
The video was to talk about using Videos as vehicles of personalization. Whether you call it Movie Talk or something else now, using videos in your class can be such a powerful tool for providing compelling input for your students but even more powerful because you can relate almost EVERYTHING back to your students! That is why I say they are really just vehicles for personalization, and relationship & community building! THAT is why sometimes it takes me 3-4 classes to get through the video clip. I pause so much and relate EVERY SINGLE LITTLE THING to the kids so it really "milks" it.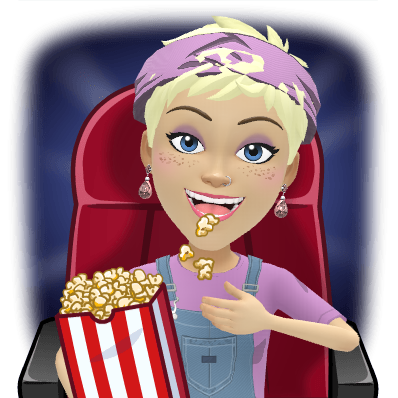 iFLT tried something new this year, and for the advanced track they offered "round table" discussions with various lab teachers and presenters. It was really fun. One of my favorite questions that a group asked me was "what are your FAVORITE videos or clips to show in class". I shared these at the end of my Live! video and wanted to post them here too.
REMEMBER, the most important thing is NOT to pick a video based on what structures you're teaching, pick a video because it will be compelling and engaging for YOUR students. You can fit any structure into any video. Period.
If you don't have time to sort through the Movie Talk Databases, then hopefully one of these (my faves) will be good for you and your students! ALL of these have countless "directions" you could go for personalization and relating it to the students you have in your room.
The Easy Life is my favorite in recent years and it is what I usually use to model the strategy with at workshops and conferences.
Alma is amazing and SUPER creepy! Highly engaging! I would NOT recommend this for any kids under 5th grade.
https://www.youtube.com/watch?v=tECaYQ1AzkM
Closet Space is also creepy and super engaging. Lauren Tauchman has a great blog with resources for it too! I would NOT recommend this for littles.
I used this Disney Short in my learning lab at Express Fluency this summer. I love all of the embedded culture in it and kids are already super excited because they love Coco! I think it works for elementary- high school.
This is an old favorite and actually the FIRST ever clip I used in class.
If you do any of the Rock Paper Scissors Brain Breaks, you should totally show this video!  Good for if you have a week focused on Bullying prevention in your school too.
Lily and the snowman is so sweet and I wrote this blog with a short story about it and how to create an extension after watching. This is great for ALL ages…
Day of the Dead will be here before you know it! Don't just SHOW this video, TALK to the kids about it!
Make sure you've built enough respect and community in your classroom before showing this one. I had one of the most powerful lessons ever using this video, when I child felt safe enough to draw himself as one of the boys in this story. It was amazing…EMPATHY builder and tear jerker!
The present is REALLY popular and for good reason! Great for all ages… tough for younger kids when he kicks the puppy. REALLY good ending… Very powerful.
I used this one in BOTH of my Learning Labs at iFLT and Express Fluency this year. KIDS LOVE FORTNITE… get over it… it is the fad right now. This is a great short because it shows a little boy obsessed with video games. Yes, I do mute it while we pause and talk and I let them watch with sound after we've made it through the whole video… (even if it does take a few days).
This one is AMAZING. My students loved it. It was a Super Bowl commercial a couple of years ago. I love Kevin Hart and so do my kids. I did mute it but they could predict what was being said. REALLY fun to hear about how kid's parents feel/do about them dating. A LOT is revealed!
https://www.youtube.com/watch?v=wapLaF5jmrU
This one was a commercial in Germany for a grocery store I believe. I love it.
I did this one two years ago at Express Fluency with littles, but I've done it with Middle School too. I had one little girl COMPLETELY traumatized with what happened to the first butterfly so I had to skip over the rest. Something to consider if you're doing it with little kiddos.
Please please please consider carefully before you show this on to kiddos. DON'T ruin the magic. I would be careful using it even with 7th graders. I still had believers last year…. It is fantastic though. Especially if you teach about Three Kings Day in Spain. Here is a free lesson plan for that if you're interested. 
This one was part of Dustin's Navidad Madness last year. It was a class favorite the WHOLE year long. I love it so much…
I love this one too.
These last two are 1.99 on YouTube and well worth it. You can find pirated versions but the music isn't good and they are nothing like as good as the originals…. I really really love them for all ages. I used them when I taught for Disney English in China. The first is called Partly Cloudy.
https://www.youtube.com/watch?v=5VRc8poIwU4&t=10s
The second is called La Luna. So so so so so good.
https://www.youtube.com/watch?v=kmBUvWVDtcA
There you go! My favorites all in ONE place! So fun!
If you're interested in seeing a recorded version of the Live video, you can see it in two parts below:
There you have it! I hope you have a wonderful day!
Until next time,
HAPPY TEACHING!
Love,
La Maestra Loca